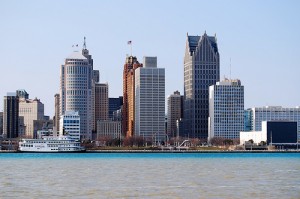 A coalition of major U.S. companies announced its support today for Michigan's Prop 3, which seeks to amend Michigan's constitution to require at least 25 percent of the state's electricity to come from renewable energy sources by 2025.
Business for Innovative Climate and Energy Policy (BICEP), a coalition of businesses that includes eBay (NASDAQ:EBAY), Gap (NYSE:GPS), Levi's, Nike (NYSE:NKE), the North Face, Starbucks (NASDAQ:SBUX), and Timberland, has decided to publically support the amendment with just three weeks to go until the November 6 election.
BICEP member companies together employ over 4,000 people in the Great Lakes State, although the organization does not currently include any major Michigan-based companies.
In addition to requiring that electric utilities provide at least 25% of their annual retail sales of electricity from renewable energy sources – wind, solar, biomass (including ethanol), and hydropower – by 2025, the amendment requires the Michigan legislature to enact additional laws to encourage utilities to use Michigan-made equipment and hire Michigan residents.
The amendment also protects Michigan consumers by preventing utility companies from increasing their rates by more than 1% per year. In a nod to the needs of utility companies, the amendment also allows extensions of the 2025 deadline to meet the 25% standard in order to prevent rate increases over the 1% limit.
"Proposal 3 is a major step in the right direction for clean energy policy, and that's why business leaders are encouraging voters to support it on Election Day," said BICEP director Anne Kelly.
Not everyone supports the measure, however. The state's two largest electric utilities – Jackson-based CMS Energy and Detroit-based DTE Energy – have each donated over $3 million to Clean Affordable Renewable Energy for Michigan Coalition, a group that opposes Prop 3.
Governor Rick Snyder is also in opposition, pointing out that Michigan already has a law on the books that sets a goal of generating 10 percent of electricity from renewable sources by 2015. "This is a standard that's already difficult to meet," said Snyder. "Proposal Three would set the bar even higher."
Opponents also argue that a constitutional amendment would eliminate flexibility and cost taxpayers money.
But those in favor of the amendment argue that Prop 3 would actually decrease utility costs for Michigan, citing a Michigan Public Service Commission report that estimates renewable energy costs at $91 per megawatt hour compared to the $107 per megawatt hour charged for new coal.
Those in favor of the amendment also cite an August study by Michigan State University economists that concluded that Prop 3 would be a huge boon to the state's economy, creating 94,000 in-state jobs and generating $10.3 billion in investments.
"Strong, clear policies like Proposal 3 encourage utilities to invest in renewable energy, which will create jobs and stimulate the local economy," said Kelly, who also serves as co-director of public policy for Ceres, an association of investors, companies and public interest groups supporting the adoption of sustainable business practices.
Ceres recently issued a report that found that wind and solar power pose a lower long-term risk to utility companies than carbon-intensive methods power generation. Unlike coal and natural gas, renewable power sources are not subject to the same risks of shifting fuel costs, extensive construction delays and access to water supplies, among other potential problems.
Image credit: Patricia Drury