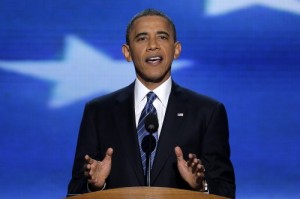 In a speech accepting the nomination for President at the Democratic National Convention, President Barack Obama unambiguously stated that "climate change is not a hoax." In doing so, Obama presented a sharp contrast between himself and his Republican opponent Mitt Romney, who derisively dismissed the climate crisis during his speech accepting the Republican nomination for President in Tampa, Fla., last week.
While Democrats have long outpaced their Republican counterparts on progressive environmental policy, Obama's solemn acknowledgement of the climate crisis struck a new chord at the convention in Charlotte, N.C. On Wednesday, former President Bill Clinton made only passing references to the environment in his speech officially nominating Obama for the presidency.
"My plan will continue to reduce the carbon pollution that is heating our planet because climate change is not a hoax," said the President to enthusiastic applause. "More droughts and floods and wildfires are not a joke. They're a threat to our children's future."
This August, the Obama administration was instrumental in updating the Corporate Average Fuel Economy regulations, which require all new vehicles to average 54.5 MPG by 2025. The League of Conservation Voters praised the new regulations as "the single biggest step the U.S. government has ever taken to reduce global warming pollution."
The Democrats, who have largely focused on the economy in a strategy calibrated to appeal to independent voters, have been careful to tie their environmental policy to economic advancement. In discussing Obama's energy policy, Democrats have been careful to note that the development of renewable energy and natural gas will create jobs and bolster innovation.
Thus far, this conflation of environmental and economic policy has been well received by the media and business groups.
The American Sustainable Business Council (ASBC), a non-partisan council that includes over 150,000 businesses nationwide, hosted a forum in Charlotte on September 5 to coincide with the DNC. The forum, which featured business leaders from companies including Timberland and Seventh Generation, as well as political leaders and policymakers, discussed strategies to protect the environment while promoting economic growth.
"The key to our economic future lies in policies that encourage and enable businesses to innovate to be sustainable, not just financially, but socially and environmentally as well," said Richard Eidlin, ASBC's Director of Policy. "We call on candidates of all political parties to ensure a sustainable future for the nation by committing to these goals."
While Obama has received measured, if not always enthusiastic, support from environmental groups, Romney's environmental platform has been harshly criticized. The Republican candidate's energy plan makes no mention of climate change, mocks the development of renewable energy, is strongly supportive of the further development and subsidization of fossil fuels, and seeks to amend the Clean Air Act "to exclude carbon dioxide from its purview."
Aping the party line on climate science, Romney said in late 2011, "My view is that we don't know what's causing climate change on this planet. And the idea of spending trillions and trillions of dollars to try to reduce CO2 emissions is not the right course for us."
In the same interview, Romney was dismissive of attempts to develop clean energy. "By the way, they do not call it America warming, they call it global warming," the candidate said. "So the idea of America spending massive amounts, trillions of dollars to somehow stop global warming is not a great idea. It loses jobs for Americans and ultimately it won't be successful, because industries that are energy intensive will just get up and go somewhere else."
This position represents a rapid and drastic shift in thinking for the Republican candidate. As recently as June of last year, Romney expressed his belief in anthropogenic climate change, declaring, "It's important for us to reduce our emissions of pollutants and greenhouse gases that may well be significant contributors to the climate change and the global warming that you're seeing."