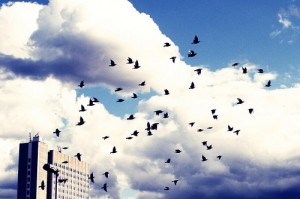 The Detroit Audubon Society recognized Chrysler Group LLC today for its support of "Safe Passage Great Lakes," a program that encourages owners and tenants of tall buildings to extinguish their lights at night during bird migration season. By turning off the lights at the expansive Chrysler Group World Headquarters and Technology Center during migration season, Chrysler Group helps ensure that safe migration of thousands of birds every year.
At night, the lights of tall buildings can be indistinguishable from the celestial lights by which many migratory birds navigate. Disoriented birds often repeatedly circle and collide with illuminated skyscrapers. It is estimated that one hundred million to one billion birds die during night migrations every year. Scientists at the Field Museum in Chicago report that this mortality could be reduced by 80% if the lights of tall buildings were extinguished at night.
The Detroit Audubon Society, which was created in 1939 and boasts over 6,000 members, launched the Safe Passage Great Lakes program in 2006 in response to a member's concern about the maimed birds he found around buildings in downtown Detroit. Safe Passage Great Lakes is based on similar programs in Chicago and Toronto. Currently, 21 American cities have lights out programs.
The Detroit Audubon Society requests that building organizations, government agencies, and property owners turn off lights in tall buildings from 11:00 p.m. to dawn from the second weekend in March through May and from the second weekend in August through October.
A brochure from the American Bird Conservancy also points out that daytime measures are also available to aid safe migration. "Most birds will avoid windows with one-quarter-inch-wide, white, vertical stripes spaced four inches apart, or one-eighth-inch, black, horizontal stripes spaced one inch apart," says the brochure.
General Motors and Ford also participate in the Safe Passage Great Lakes program. GM extinguishes the lights at its world headquarters in the Renaissance Center in downtown Detroit. The automaker has also asked other tenants of the Renaissance Center to extinguish their lights at night.
In addition to the big three car companies, DTE Energy, Kelly Services, and Consumers Energy participate in Safe Passage Detroit.
"Today's recognition by the Detroit Audubon Society is a further affirmation of Chrysler Group's many initiatives designed to protect our natural resources," said Joe Ozdowy, Chrysler's Head of Exterior Building and General Services. "We are proud to participate in this initiative to help Michigan continue to attract and nurture a wide variety of wild birds."
"Preservation of the natural environment is such a key component of our sustainability strategy that it is included in our Corporate Integrity Code," said Gregory M. Rose, Chrysler's Director of Environment, Health & Safety and Sustainability. "In addition to reducing the hazards faced by birds during migration, turning off the lights in our facilities at night helped contribute to the 17 percent reduction in energy use we achieved in 2011 compared with 2010."
Chrysler Group is also working with a local chapter of the Audubon Society to conduct an audit of birds on the site, located on 504 wooded acres in Auburn Hills, Mich.
Image credit: Petras Gagilas