By Vikas Vij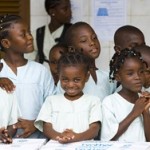 Marathon Oil Corporation (NYSE: MRO) has undertaken a number of social investment programs as a part of its corporate social responsibility. The programs focus on education and health care in Equatorial Guinea in Middle Africa, and included refurbishment of a clinic to support public health and building of two rural schools on Bioko Island, part of Equatorial Guinea. The company's employee-sponsored "Books for Bioko" program also continues to make a positive impact on primary and secondary students in seven schools on the Island.
Marathon Oil's social efforts have been outlined in its "Living Our Values 2012 Corporate Social Responsibility (CSR) Report,"which provides insights into the company's efforts to promote greater economic, social and environmental sustainability.
The new CSR report reflects Marathon Oil's first full year as an independent international energy company. It underscores the company's continued commitment to living its long standing values of health and safety, honesty and integrity, corporate citizenship, environmental stewardship and a high performance team culture.
Marathon Oil has also adopted eight corporate level commitments that cover society, environment, workplace and governance. The progress made with regard to each commitment has been outlined in the 2012 report and primary activities planned for 2013 have also been included. The new CSR report is available for the first time in a digital-only format at the company website, which enables the company to expand its reporting.
Via: Justmeans